Functional re-education and medical spa center
The Center Clinic is equipped with a technical platform that includes a rehabilitation center, medical spa, slimming and wellness, a first in all Tunisian clinics.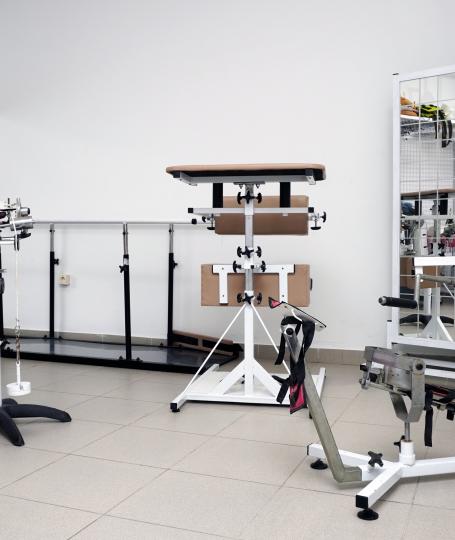 Physical and Rehabilitation Medicine, also known as Rehabilitation or Physiatry, is the specialty of caring for patients suffering from a disability or physical incapacity, with the aim of minimizing the physical, psychological and socio-economic consequences.
Center Clinic has a functional re-education center staffed by a team of qualified and experienced specialized physiotherapists for comprehensive patient care. The Center takes care of patients hospitalized at the clinic as well as outpatients.
Rehabilitation and re-education care is provided according to medical prescriptions.
Every human being is different. So are the lifestyle offers. The SPA center of the Monastir Clinic is individually adapted to specific needs.
The Medical Spa Tunisia is a place of relaxation and body care where you can receive treatments to improve the firmness of your skin, remove unsightly hairs from your silhouette, or simply relax by choosing a massage in a bewitching environment.
The spa experts are obviously there for you, with words and deeds to customize a package for you. We look forward to welcoming you in our relaxing environment.
Our SPA center Tunisia is comprised of two zones:
Dry zone of rehabilitation
The dry area includes massage cabins, esthetic cabins and a hairdressing salon.
The Center is equipped with all the necessary equipment for physiotherapy, rehabilitation, relaxing massages and slimming massages with medical monitoring, chest drainage, medical rehabilitation of rheumatics and stroke, rehabilitation of traumatized people, and equipment for beauty care (face, hair, hands and body).
The dry area is equipped with:
Aerosol devices
Bronchial aspirators
Electrotherapy equipment
Ultrasonic device
Rehabilitation tables, for different types of massage
Equipment for relaxing massage...

This center was created to offer patients more comfort, renewed and more modern technical equipment and more convivial private and collective spaces.
Wet Zone: Slimming, Aqua-physiotherapy and Wellness
Sauna, Hammam, Electrotherapy, Swimming pool, Heating blanket
A masseur-physiotherapist is always present during rehabilitation care. Thus, patients can work in complete safety and benefit from the instructions and corrections given by the practitioner
A swimming pool equipped with a hydromassage system, counter-swimming and water bike : Aqua Bike