 The treatment of vision problems can be done in different ways. Eye surgery can correct problems such as cataracts and glaucoma. Other procedures can correct some vision problems without glasses or lenses.

Ophthalmologic surgery

Ophthalmologic surgery Tunisia, the Center Clinic
Eye surgery, also known as ophthalmologic surgery or eye surgery, is surgery performed on the eye or its appendages. Surgery is usually performed by an ophthalmologist.
It is good to know that the eye is a very fragile organ and requires extreme care before, during and after surgery to minimize or prevent further damage.
An expert Tunisian ophthalmologic surgeon is responsible for selecting the appropriate surgical procedure for the patient and taking the necessary safety precautions.
Eye surgery continues to be a widely practiced type of surgery, having developed various techniques to treat eye problems. The Center's clinic takes care of any surgical procedure thanks to a qualified team and high-performance equipment.
Titre
Ophthalmologic surgery
Eye surgery Tunisia: for whom? and why?
Description
Myopia, hyperopia, astigmatism or cataracts are vision disorders that can be corrected by surgery. Indeed, eye surgery techniques are constantly improving and have won over more and more men and women. The popularity of the laser simplifies and improves various corrective procedures for various vision disorders.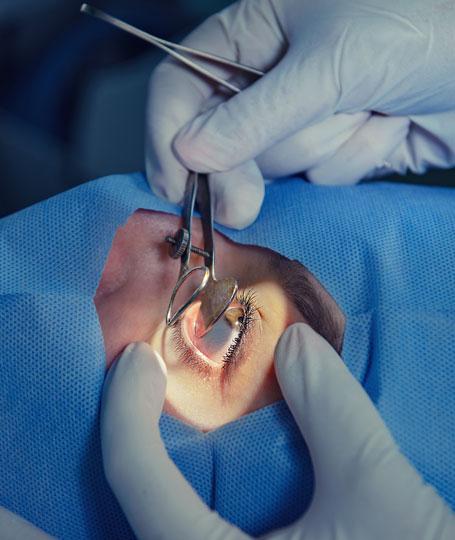 Refractive surgery includes interventions to correct refractive errors using medical equipment such as lasers or implants (intraocular lenses) or surgical instruments.
If you have a refractive disorder, such as myopia (loss of visual sharpness as the distance between the eye and the object increases) refractive surgery is a solution to correct or improve your vision.
There are a variety of surgical procedures to correct or adjust the focusing ability of your eye by reshaping the cornea or a clear round dome at the front of your eye. Other procedures involve implanting a lens inside your eye.
The most common type of refractive surgery is LASIK (Laser-Assisted In Situ Keratomileusis), where a laser is used to reshape the cornea.
For people who are short-sighted (myopic), some refractive surgery techniques reduce the curvature of a cornea that is too steep to decrease the focusing power of the eye. Images focused in front of the retina, due to a longer eye or a steep corneal curvature, are pushed closer or directly onto the retina after surgery.
This is the standard technique of vision correction using the medical laser, which allows to correct the corneal curvature after only one treatment: myopia, presbyopia ,hyperopia or astigmatism.
Corneal refractive surgery refracts light by correctly bending the shape of the cornea so that the patient can see clearly without glasses or contact lenses, thus acting on the shape of the cornea.
The Lasik refractive technique is performed on an outpatient basis. It is a painless procedure that uses a light local anesthetic with eye drops. If the patient feels anxious, sedatives may be used. The operation lasts about 30 minutes, while the laser procedure lasts a few seconds.
The Center's Clinic provides medical services to patients in Tunisia and performs eye surgery with the best rates.
The ophthalmologists at the Center Clinic master the various techniques of this eye correction profession, thus minimizing the possibility of trauma while ensuring rapid recovery.
Our clinic offers studied and reasonable prices that adapt to your budget.
Our ophthalmologists practice this profession in an ophthalmology center equipped with state-of-the-art equipment: a Zeiss microscope, a latest generation phaco stellar is pc 500, a UFSK surgical chair and table and a TOPCON slit lamp.